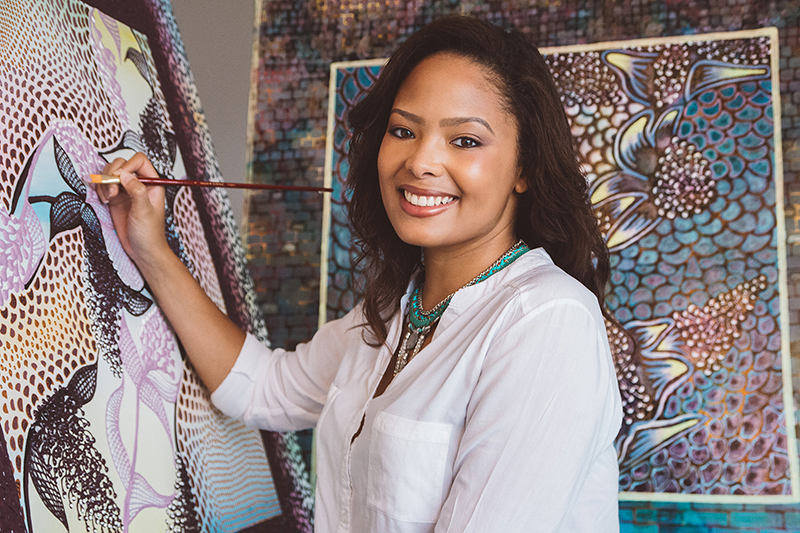 Going from one genre to the other is generally known to be risky for artists. However, Ambraude proves with brightness that it is not.
As a multidisciplanry artist, she is alternately an Haute Couture dress designer and a painter. Her eclecticism can be surprising but her skills, her sensivity, her imagination and her desire to amaze and share it with the others, allows her all kinds of daring.
Ambraude was born in Martinique, in the French Caribbeans, in a well-named city called Diamant. She started her brilliant studies in Arts at the prestigious "Ecole Supérieure des Arts et Industries. She then pursued a meticulous and academic work at the reputed Chambre Syndicale de la Haute Couture Parisienne, opening herself to new perspectives and growing in height a sort of exaltation of the senses. Ambraude delivers in one part of her work a real breath of tropical air…What she would define as "Post-Exotic Art Nouveau ».
With her art, she reveals a real breath of air. This, delicately accomplished collection gives way to the softness of the structures and the line's originality, creating a deep refreshing effect.
Therefore, she has chosen to work around lightness and softness regarding colours. The result of this is a mix of a ballet with shapes and colours.
Free enough, the artist doesn't let herself to be confined into any kind of concept or technique, lightness, freshness, transparency and fluidity characterize Ambraude's art and make it quite difficult to choose one painting rather than another.
You may let yourself be seduced by the quality and the originality revealed by this multifaceted artist who aims to provoke sensual feelings in you. These feelings also arise an ecological awareness, they attract us, impel us to preserve and protect it.
In artistic subjects (painting, sculpture, photography…), artists usually use several means to strike us and to make us realize the fragility of the ecosystem surrounding us. So, through a joyful and coloured world, Ambraude has chosen to convey all the positive waves exhalting from nature in order to make one travel, dream or smile.
Through an artistic process that instinctively calls for the artist's childhood memories, ones "positive feelings" will be expressed and will lead one to a sensation of comfort and well-being.